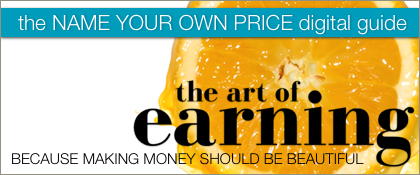 Synopsis:
The Art of Earning-Because Making Money Should Be Beautiful by Tara Gentile is a refreshing new look at the business of commerce.
This is an 80-page manifesto that describes how to make money beautifully and why it is so important to do so.
"The aim of this book is to radically reframe your experience and relationship
to money by reprogramming what you've been taught about passion & profit."
The book is not a "how-to"  or step-by-step guide to making money. Instead, The Art of Earning addresses common beliefs we hold about earning and money in general.
Although the focus of the book is creative business owners (artists and artisans), the principles discussed are vital for anyone looking to transition their business effectively and live profitably in the "New Economy."
This New Economy is the expression of a transition from the Information Age to an age where products of "depth and meaning" are highly-sought and valued.
My Review
I loved this book because it was a real life-changer for me.  It delivered its promise to "reframe" and challenge my beliefs about money, business and earning.
I also appreciated Tara's ability to connect the art of creating in the world and the result–earning–as the natural flow of creative energy. Although her book is focused on earning, it is not a treatise on consumerism. In fact, she states quite the opposite.
"Hoarding wealth is never positive. It puts money in chains and
makes you a slave to the dollar…Earning more doesn't
have to mean consuming more" 
The thing I most like about Tara's work is that it seems a balanced view of capitalist pursuit. Often we have a negative view of out-of-control money-making. Tara asserts that when we serve our customers and give them more than we receive in return, earning becomes beautiful, creative and fun.  We are providing value and worth!
As I said, this book was a life-changer for me. It lived up to what it promised, so much so, that it is the first product I have chosen to endorse on my site.
Let me emphasis again that this is not a "how-to"  guide.  But if you are looking for a guide that will make you think, challenge your beliefs, and give you the raw materials to re-frame your creative business endeavors, this is your book!
To find out more or to purchase Tara's book, you can click the image below.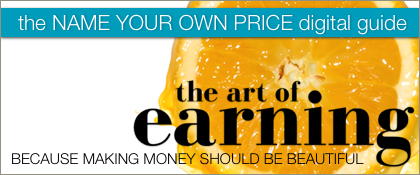 Disclaimer:
I do endorse
The Art of Earning
and am now an affiliate of this product which means I earn a small commission if you decide to purchase this product.  I have read and used TAOE in my own life and business.