Make Love To Your Money!
This revolutionary new e-book by blogger and business woman, Tara Gentile will rock every assumption you have ever made about your money and your business.
This book teaches you to value the work you do as an art form.  You are the Michelangelo of your life. The Art of Earning is a powerful brush with which you can spread the joy of your vocation over the canvas of making money.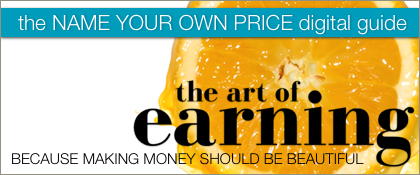 (Click the banner to learn more and purchase)
This tool is an essential "must-have" for creative business persons, and is timely and relevant for all professionals who want to navigate the transition from the "paycheck prison" to play in the "New Economy."
The choice is yours! (Read a synopsis and my full review of the book here)
Disclosure: This product is an "affiliate" products.  This simply means that if you purchase the product, I earn a small commission for introducing you to the product. (You don't pay anything extra)